Insects and spider mites, if not controlled, can be damaging to many trees and shrubs. While some insect species pose serious threats to plant health, most can be controlled so that damage will be limited to an insignificant and tolerable level. And while some insect pests are damaging to plants, not all insects are bad. Many insects are beneficial and our treatment strategies are designed to protect beneficial insects and enhance naturally occurring biological controls.

Wolf Tree Specialists technicians evaluate each landscape, and after determining which treatments are needed, will make recommendations that follow PHC guidelines. Our Plant Health Care programs are designed to target particular pests and particular trees and shrubs.
Not every tree or shrub is treated if it is unnecessary. Technicians also monitor levels of damage and only apply a particular control when predetermined thresholds have been reached. This strategy helps to keep treatment costs down and protects the environment from unnecessary application of pesticides.

Landscape owners can help make our treatments more effective by letting us know if something is happening that is potentially damaging. This helps us keep our recommended treatments to a minimum. We recommend the least number of treatments that will keep pest populations to a minimum and keep your trees and shrubs looking beautiful and healthy.
Learn More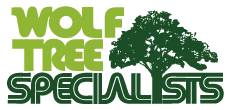 Please fill out the form below with any questions.