We are committed to providing the finest tree care and forestry services available in our marketing area. The combination of Arboriculture and Forestry gives Wolf Tree Specialists a unique perspective and capability to assist tree owners where woodlands intermingle with developed areas creating an interface between the remaining original forests and residential communities that create the beautiful landscapes where we live and work.

We are committed to preserving our natural resources so that current and future generations will have the opportunity to share and enjoy the same quality of life that previous generations have cherished and preserved for us.
Learn More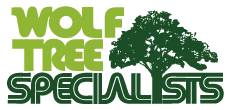 Please fill out the form below with any questions.