We are Berks County's only Certified Arborists and Registered Foresters. Whether you own a single tree or a forest our team of foresters and arborists are uniquely qualified to assist you in determining and implementing a plan that will protect your landscape or woodland assets.

Wolf Tree Specialists employees share a passionate and lifelong interest in trees. Employees at Wolf Tree Specialists begin their careers with a formal education at a college or university in an accredited forestry, horticulture or arboriculture program. Forestry curriculums prepare students for a career in managing forests (communities of trees) while arboriculture and horticulture prepares students for a career in the care of landscape trees.

Understanding trees and how to care for them falls into two broad categories. Arboriculture is the care of amenity or landscape trees, while forestry is the management and care of forests. Wolf Tree Specialists employs Arborists to care for landscape trees and Antietam Forestry Consultants, our forestry services division, employs Foresters to manage woodlands.

Arborists are special people. They need to have knowledge of tree biology (how trees work) and they have to be able to climb trees to take care of them. Climbing large trees (using chain saws high up in a tree) is physically demanding, difficult and dangerous. To do this job successfully a person must enjoy the physical challenges involved in climbing large trees (being in great shape) and the experience and education to know what to do once you climb the tree.

Foresters use their knowledge and experience to develop forests that are healthy and productive, so that communities will continue to have wood products and beautiful forests now and well into the future. Foresters have to know how to prepare maps, understand timber markets, write environmental plans and oversee logging operations.

Although foresters and arborists are tasked with different duties, both recognize that trees are one of our most important natural resources, and that providing proper care will insure that our landscapes will continue to have healthy beautiful trees and our forests will be productive for future generations.

Wolf Tree Specialists Inc. provides high quality tree preservation and tree health management services in Berks County and adjoining counties in Southeastern Pennsylvania. Our services include expert pruning and trimming, installing cable and support systems, tree and stump removal, and lot clearing. We also provide Consultation Services including, Preconstruction Analysis and Tree Preservation, Diagnosis, Appraisals, Tree Inventories, and Expert Witness services.

Antietam Forestry Consultants, our forestry services division, provides professional forestry services throughout eastern Pennsylvania and adjoining states. Our Professional Forestry services include Timber Sale Administration, Consultation, Forest Management and Stewardship Plans, E and S Plan Preparation, Tree Marking, Trespass and Damage Appraisals, and Expert Witness Services.
Learn More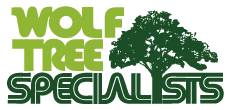 Please fill out the form below with any questions.